Principal Thomson acknowledges High Achieving Aitchisonians
Aitchison has many families with high flying brothers. College Principal Mr. Michael A. Thomson was pleased to acknowledge Haseeb Ejaz Chaudhry of Aitchison College Senior School and welcome his equally successful brother Hassan Ejaz Chaudhry who is studying at Princeton University.
Haseeb was invited to Singapore for the Final Phase of the International Young Physicists' Tournament 2017 (IYPT), hosted by the National University of Singapore from 5th to 12th July. Previously in April, Haseeb had won the First Pakistan Young Physicists Tournament and was selected among those to represent Pakistan at the 30th IYPT
It is to be noted that Haseeb has also been selected for the Young Brainport Summer School in Netherlands, an extremely selective physics program, along with receiving several other national and international honours.
With Aitchisonians like Haseeb and Hassan, the College continues its legacy of producing high achievers in all walks of life.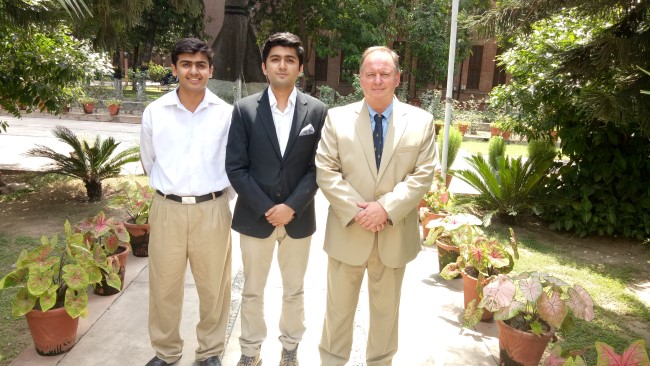 From left to right: Haseeb Ejaz Chaudhry, Hassan Ejaz Chaudhry and College Principal Mr. Michael A. Thomson.